This post has been read 285 times!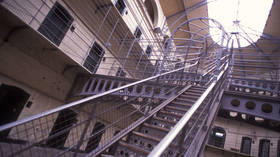 The sorry state of a California prison, with mice falling on dining tables and mold growths covering the walls, has prompted inmates to sue the management. Lawyers say it is part of a systemic infrastructure decay problem.
A filed in a California court describes the stomach-churning details of life in the Substance Abuse Treatment Facility and State Prison in the city of Corcoran. The prisoners incarcerated at the facility have continually seen maggots and even mice falling from the crumbling ceiling right onto the tables in their dining hall.
Through the holes in the deteriorating roof rainwater and bird droppings seep through the crumbling ceiling and streak the walls. The constant humidity has allowed mold to spawn across the prison walls, according to Robert Escareno, an inmate who filed the California lawsuit.
The prison authorities acknowledge the problems but pin the blame on prisoners. Inmates toss food onto the ventilation system through the openings in the ceiling, prison Lieutenant Michael Owens testified in court, adding that the rotting food attracts insects, maggots and mice. Prisoners were also accused of attracting pests by storing leftover fruit and bread in ventilation ducts, for brewing illegal beverages later.
The inmates, however, can't be blamed for the crumbling ceiling, since Owens admitted leaking rainwater destroyed interior tiles so often that the prison administration just stopped replacing them. The leaks also often short-out electrical systems, including lights, control panels and fire suppression systems.
And it is not just the Corcoran facility that is falling apart. "Roofs are failing all over the place," Don Specter, the director of the non-profit Prison Law Office, which represents Escareno, said. "[The authorities] acknowledge the need of the roofs, [but] they're not making arrangements so people don't get hurt in the meantime."
California authorities say they are doing everything they can, but the total cost of overdue maintenance amounts to more than $1 billion. The facility decay problem, however, goes far beyond a single state, as other reports have revealed setbacks such as malfunctioning heating systems in federal detention centers in the New York borough of Brooklyn and near Los Angeles, as well as poor medical care at federal immigration facilities.