This post has been read 253 times!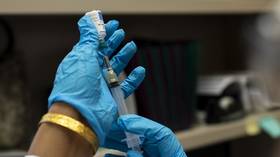 New York City's health commissioner has declared a public health emergency over a major measles outbreak in the Williamsburg neighborhood of Brooklyn, with 250 cases documented in the area since September 2018.
Oxiris Barbot said on Tuesday that she is ordering everyone who lives, works or goes to school in Williamsburg to get vaccinated against the highly contagious disease.
Measles spreads easily via coughing and sneezing, and can result in serious health complications ranging from permanent loss of hearing to brain swelling and death.
The commissioner's order also says that parents and guardians of any unvaccinated children in Williamsburg aged over six months have to ensure the child is vaccinated within 48 hours of the order being issued, "unless such parent or guardian can demonstrate that the child has immunity to the disease or document that he or she should be medically exempt from this requirement."
Speaking at a press briefing on the emergency declaration, New York City Mayor Bill de Blasio said people who remain unvaccinated in the affected area will face fines. He also said that concerns about an unsupported link between the Measles Mumps and Rubella (MMR) and autism have contributed to some people refusing vaccination and remaining unprotected against the disease.